Check Out Our Newest Publications!
SP2420 The Elemental Style: A Handbook for Composers and Arrangers Part 1 by Paul Cribari and Rick Layton
Based on the models presented in Orff and Keetman's Music for Children volumes, this book is a must-have resource for teachers of the elemental style. Over the course of the book, the reader is guided from the foundational concepts of basic rhythmic cells and elemental forms to the construction of melodies and static accompaniments in the pentatonic and diatonic modes. Supplemental resources include a glossary of frequently used terminology in composition for the elemental instrumentarium along with practical and technical ranges of the various instruments.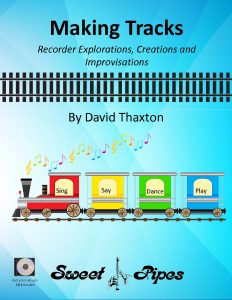 SP2419 Making Tracks Recorder Explorations, Creations and Improvisations Book and CD by David Thaxton
The purpose of this book is to introduce a series of student-centered musical activities that foster creativity on recorder in a class setting. It may be used to supplement and parallel other classroom music lessons and may be used in conjunction with other recorder methods. Its primary aim is to give students the instruction, support and skill in learning to play and create on the recorder. By following a sequence of Imitation – Exploration – Improvisation, students not only gain skill in the technical aspects of playing recorder, but also an understanding of the elements of music, literacy and composition as they are given opportunities to improvise very early on.  Book includes a DVD with full color PowerPoint visuals.
The Sweet Pipes Team: Billy Ferguson, Michael Chandler, Ben Torres, and Randy Ziebarth